Lindsay Lohan is almost lost in the shuffle these days.
With Charlie Sheen stealing all of her tabloid thunder, the train wreck and alleged jewel thief can't even get any major PR for an interview on Extra.
The troubled starlet admitted to the
celebrity news
program that she's got a long way to go before reclaiming a spot atop the Hollywood food chain.
Maybe Charlie can invite her to shack up with himself and the goddesses. Rachel Oberlin and Natalie Kenly certainly seem like welcoming people.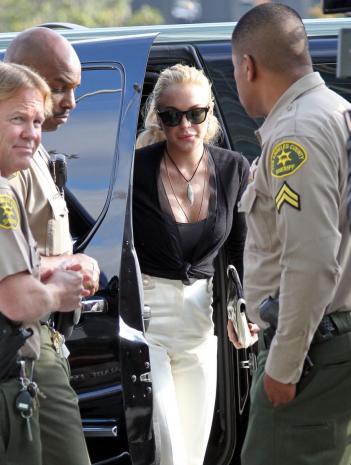 Lindsay Lohan en route to court recently. [Photo: Pacific Coast News]
Currently up on a felony theft charge in connection with a $2,500 necklace she's accused of lifting, Lindsay says she feels "great" and "happy" these days.
"There's always bumps that we have in the road," she said. "As long as I'm focusing [on my recovery], I'm doing good and that's most important for me."
Not at grammar, but oh well. Lindsay, whose excuse in the jewel heist case may be corroborated by surveillance footage, just wants to get back to work.
Asked if there's any stars she'd like to work with, Lohan said she's in no place to seek privileges like that right now, but these things will reappear in time.
"I have to build myself back up and I get that," she said, surprisingly maturely. The full interview airs tonight ... unless Sheen does something crazier.