Anang Hermansyah Jakarta formally declared his love for Ashanty yesterday. Viewing the status Ashanty as colleagues, family think fair if it was all just mere gimmick.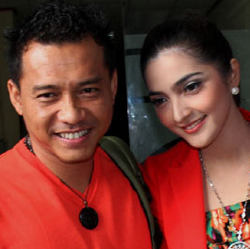 This was stated by pedangdut Liza Natalia, sister in law from Ashanty. In fact, Liza considered legitimate if the relationship Ashanty and Anand just a strategy to boost their popularity.
"Yes it's nothing if it's just for a gimmick, yes yes and if it's reasonable it's just a strategy aja aja ya legitimate," he said while talking to detikhot via phone on Wednesday (04/27/2011).
Liza also assume that their relationship will affect the image Ashanty. In fact, according to the mother of two children, can-can later no man dared to approach Ashanty.
Ashanty family party, until now has never spoken directly with the 42-year-old man. So, according to Liza, the family is not too much importance on their relationship.
"Wehad never met until now ,there has been no approach to the family as well ,so yes we do not consider important ,"he said .
Jakarta Anang Hermansyah resmi menyatakan cintanya kepada Ashanty kemarin. Melihat status Ashanty sebagai rekan kerja, keluarga menganggap wajar jika itu semua hanya gimmick semata.

Hal itu disampaikan oleh pedangdut Liza Natalia, kakak ipar dari Ashanty. Bahkan, Liza menganggap sah-sah saja jika hubungan percintaan Ashanty dan Anang hanya strategi untuk mendongkrak popularitas mereka.

"Ya nggak apa-apa kalau ini cuma buat gimmick saja, ya wajar ya dan kalau memang ini cuma strategi aja ya sah-sah aja," ungkapnya saat berbincang dengan detikhot via ponselnya, Rabu (27/4/2011).

Liza juga menganggap hubungan mereka akan berpengaruh terhadap citra Ashanty. Bahkan, menurut ibu dua anak itu, bisa-bisa nantinya tidak ada laki-laki yang berani mendekati Ashanty.

Pihak keluarga Ashanty, sampai saat ini belum pernah berbicara langsung dengan pria berusia 42 tahun tersebut. Jadi, menurut Liza, keluarga tidak terlalu menganggap penting hubungan mereka.

"Kita sampai sekarang belum pernah ketemu, belum ada pendekatan ke keluarga juga, jadi ya kita nggak anggap pentinglah," tuturnya.