Jakarta pesinetron Fayruz Adly did not want to be too long as the status of singles. Adly seen holding her new boyfriend while Maroon 5 concert on Wednesday (27/04/2011) night.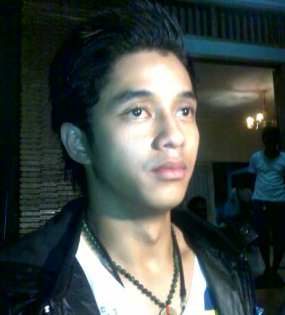 After the relationship ended affair with pesinetron Shireen Sungkar in June 2010 and then, finally releasing Adly jomblonya status. Adly admitted relationship with his new girlfriend has been running since January.
"Yes we've invented from January, but he lives in Bandung," Adly said when met after menyasikan Fayruz Maroon 5 concert at Istora Senayan, South Jakarta, on Wednesday (27/04/2011).
Beloved Adly, Kalia Labitta Yudhasoka (19) is a model and medical school student at one high penguruan country in Bandung. That's what makes the two of them seldom seen way.
Want to know the secret of the film star 'Cinta Fitri' is to maintain harmony despite their long-distance dating?
"He's the same one sister gw college, so ade gw so spies," lid Adly, laughing.
(fk / ich)
Jakarta Pesinetron Adly Fayruz seperti tidak mau terlalu lama menyandang status jomblo. Adly terlihat menggandeng pacar barunya saat nonton konser Maroon 5, Rabu (27/4/2011) malam.

Setelah hubungan asmaranya berakhir dengan pesinetron Shireen Sungkar pada Juni 2010 lalu, akhirnya Adly melepaskan status jomblonya. Adly mengakui hubungan dengan pacar barunya sudah berjalan sejak Januari lalu.

"Ya kita udah jadian dari Januari, tapi dia tinggalnya di Bandung," tutur Adly Fayruz saat ditemui usai menyasikan konser Maroon 5 di Istora Senayan, Jakarta Selatan, Rabu (27/4/2011).

Kekasih Adly, Kalia Labitta Yudhasoka (19) merupakan model dan mahasiswi fakultas kedokteran di salah satu penguruan tinggi negeri di Bandung. Hal itulah yang membuat mereka jarang terlihat jalan berdua.

Mau tahu rahasia bintang sinetron 'Cinta Fitri' itu untuk menjaga keharmonisan mereka walaupun berpacaran jarak jauh?

"Dia satu kuliahan sama adik gw, jadi ade gw yang jadi mata-mata," tutup Adly seraya tertawa.


(fk/ich)