Jakarta lawyer Hotman Paris and actress famous Meriam Bellina increasingly able to appear alone in public. This time, Hotman visible arm cannon at the Maroon 5 concert that was held at Istora Senayan, Jakarta, Wednesday (04/27/2011) night.

Hotman and Meriam also looks very compact in terms of dress. The couple appeared dressed all in black.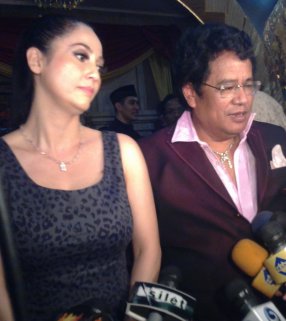 When you get to the concert area, Meriam appears wearing a white cowboy hat. However, he took off his hat when already in the Istora. Unfortunately, this time Hotman reluctant to say.
Previously, on 30 March, the couple had also spotted holding hands while attending his reception at Balai Sudirman, Jalan Dr Saharjo, Tebet, South Jakarta.
Hotman does not confirm or deny the status of their romance. All questions answered Hotman with like-liked. However, lawyers Cut Dance artist, no doubt explain his admiration for the beauty of the artist's real name Ellisa Meriam Bellina Maria Bamboe it.
"He (cannon), the greatest woman I know, a very beautiful woman," Hotman said.
Jakarta Pengacara kondang Hotman Paris dan aktris Meriam Bellina semakin berani tampil berduaan di depan publik. Kali ini, Hotman terlihat menggandeng Meriam di konser Maroon 5 yang digelar di Istora Senayan, Jakarta, Rabu (27/4/2011) malam.

Hotman dan Meriam pun terlihat sangat kompak dalam hal berbusana. Pasangan tersebut tampak mengenakan pakaian serba hitam.

Saat masuk ke area konser, Meriam tampak mengenakan topi koboi berwarna putih. Namun, ia melepas topinya itu ketika sudah di dalam Istora. Sayangnya, kali ini Hotman enggan berkomentar.

Sebelumnya, pada 30 Maret lalu, pasangan tersebut juga sempat kepergok bergandengan tangan saat menghadiri acara resepsi rekannya di Balai Sudirman, Jalan Dr Saharjo, Tebet, Jakarta Selatan.

Hotman tidak menegaskan atau membantah tentang status asmara mereka. Semua pertanyaan dijawab Hotman dengan suka-suka. Namun, pengacara artis Cut Tari itu, tidak ragu memaparkan kekagumannya terhadap kecantikan artis bernama asli Ellisa Meriam Bellina Maria Bamboe itu.

"Dia (Meriam) wanita terhebat yang saya kenal, wanita yang sangat cantik," ujar Hotman.