Jakarta In the new film, Julie Estelle act as beautiful girl who likes to eat a banana. Whether in everyday life he also likes food that is identical with that odor?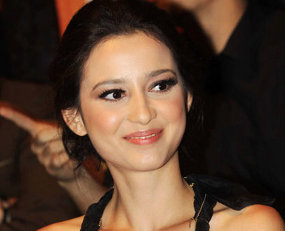 Apparently, Julie really liked it. In fact, a banana into the favorite menu 22-year-old actress. For him, there's nothing wrong with a banana.
According to Julie, with her ​​favorite vegetables mecerminkan petai also love the typical foods of Indonesia.
"I think one of baseball yes, that Indonesia really, what's wrong yes I love Indonesian products," he said when met at a press screening the film 'Boys Make Dizzy' at Planet Hollywood XXI, South Jakarta, Thursday (28/04/2011).
During enjoy bananas, singer Ello lover had never received a protest from the nearest person and family, including his beloved girlfriend. That's because Julie did not always eat a banana every day.
"I never protested when eating a banana, I've never had a bad experience when eating a banana," he said.
(fk / MMU)
Jakarta Dalam film terbarunya, Julie Estelle berperan sebagai cewek cantik yang suka makan pete. Apakah dalam keseharian ia juga menyukai makanan yang identik dengan bau tak sedap itu?

Ternyata, Julie memang menyukainya. Bahkan, pete masuk dalam menu favorit aktris berusia 22 tahun itu. Baginya, tidak ada yang salah dengan pete.

Menurut Julie, kesukaannya dengan sayuran petai juga mecerminkan kecintaan pada makanan-makanan khas Indonesia.

"Aku rasa enggak salah ya, itu Indonesia banget, apa salahnya aku suka produk Indonesia ya," tuturnya saat ditemui saat press screening film 'Cowok Bikin Pusing' di Planet Hollywood XXI, Jakarta Selatan, Kamis (28/4/2011).

Selama menikmati pete, kekasih penyanyi Ello itu tidak pernah mendapat protes dari orang terdekat dan keluarga, termasuk kekasih tercintanya. Hal itu dikarenakan Julie tidak selalu memakan pete setiap hari.

"Aku nggak pernah diprotes waktu makan pete, aku nggak pernah punya pengalaman buruk saat makan pete," ujarnya.

(fk/mmu)