The day before his marriage to Kate Middleton, Prince William seen racing-kebutan using SP 1198 Ducati motorcycle. He passed with high velocity toward the south London park.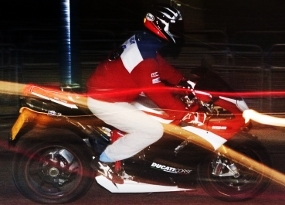 By wearing a helmet and jacket thickness, the prince riding a motorcycle Italian manufacturer is like a racer. William is known as a man who loved motorcycles.
Ducati is also a new motorcycle the prince after he also has a Yamaha XT600 and Honda Blackbird. After a quick pass, 28-year man was being awaited his colleagues at the park to play football.
He also seemed to enjoy his last days as a bachelor. As reported by Dailymail, Thursday (28/04/2011) he also looks joked with his relatives while playing ball.
Previously, William admitted nervousness ahead of her wedding day on 29 April 2011 tomorrow. He also considers the entertainment with his friend to be one nervous pain.